The Pebble Smartwatch for iPhone and Android is a prime example of the bizarre times we live in. At a time when people are increasingly telling time by looking at the corner of their computer screen or the lock screens on their smartphone, Pebble aims to make the watch everyone's favorite watch. Instead of playing off the watch and smartphone as competitors for one function, Pebble tries to go beyond the standard use case for both devices and do a lot more.
Sony, Microsoft, Motorola, and others have also tried to make the watch more than just a watch, but even their millions of dollars in research and development and years of manufacturing experience couldn't quite get the category right. Still, Pebble, a humble Kickstarter project backed by nearly 70,000 backers, is the most enthusiastic smartwatch to date. Have these early believers been vindicated by the release of some phenomenal product or are they just another cautionary story about what happens when reality doesn't meet the hype?
Hardware and design
Pebble costs $ 150, and that cost doesn't look good. The watch has a simple rectangular plastic face connected to an equally simple – albeit fair, quite reassuring – band of smooth rubber.
Multiple colors are available for the watch part, but the glossy plastic frame and exposed charging port are about as sleek as a watch in a sports shop. The nondescript design is forgivable, considering that no one buys Pebble to make a fashion statement. Pebble may not be the prettiest watch on the market, but it's simple enough not to conflict with most clothing or to look cheap.
A 1.26-inch black and white e-paper display with a resolution of 144 x 168 shows the time and compatible notifications from an iOS or Android device. Backlighting makes the screen easier to read in the dark. This light can also be triggered automatically by gently snapping your wrist.
On the left side there is a menu button and a charging port and on the right side the navigation buttons for scrolling and selecting. Pebble is light as a feather. So if you press the buttons with too much force, the device will tilt at an awkward angle, but the light feel is otherwise a blessing.
<iframe width = "600" height = "338" src = "https://www.youtube.com/embed/aibWkWQ-DmY?autoplay=1" frameborder = "0" allowfullscreen = "" load = "lazy" srcdoc = "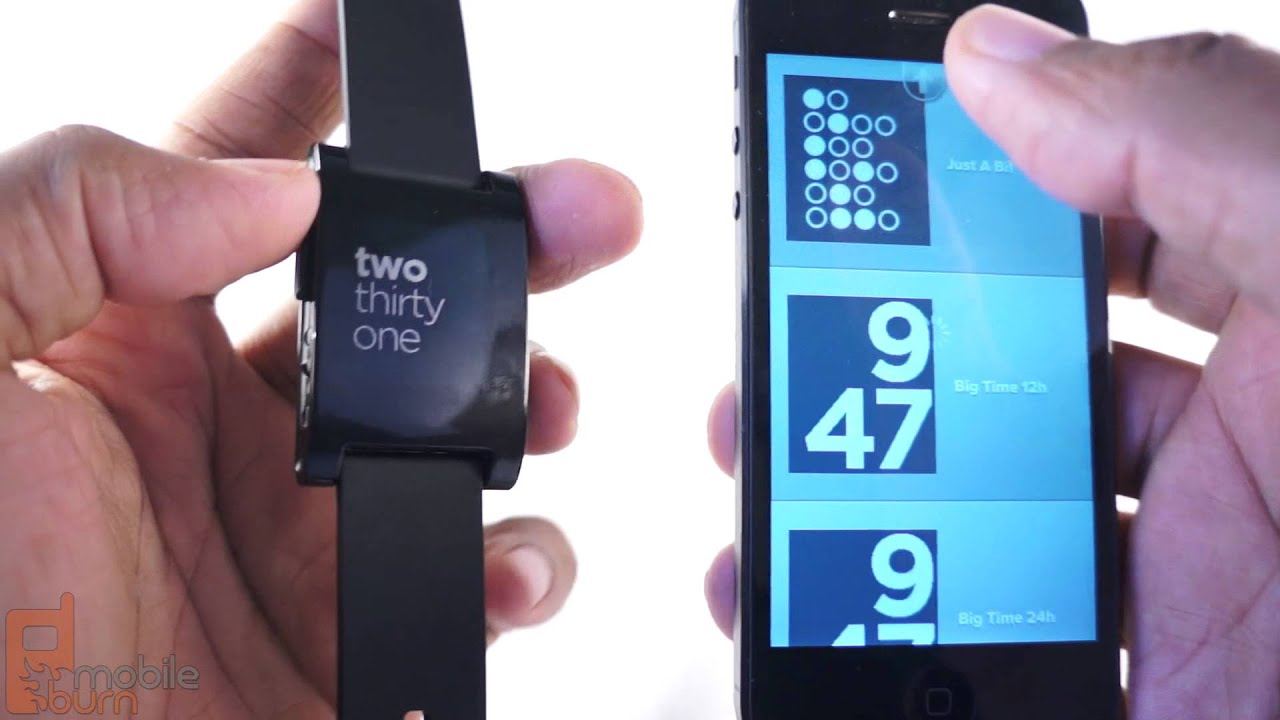 ▶">
The most important technical data of the Pebble include:
Scratch-proof, shatterproof and 5 ATM waterproof
Vibrating motor for sending notifications and alarms
Accelerometer for using gesture recognition
Bluetooth 2.1 + EDR and Bluetooth 4.0
Interchangeable 22mm watch straps
software
Pebble's superficial flaws are not a problem for most. The real value of a smartwatch is its "smarts" offered through software. While craftsmanship and fashion play a much bigger role in choosing a standard wristwatch, Pebble attracted numerous customers by promoting the idea that their watch can do more than just tell the time. The Bluetooth 4.0 enabled watch can be connected to a smartphone to download customizable watches, relay notifications from a smartphone, and even initiate controls on an Apple iPhone or Google Android device.
The type of smartphone someone owns has a huge impact on what Smart Pebble can look like. An iPhone can currently receive notifications for incoming calls, calendar appointments, text messages, and iMessages, but not all apps can send notifications. The watch is a good time saver as it shows caller ID information and can answer or decline calls, although speakerphone mode doesn't automatically activate so you still have to pick up the phone. I also liked Pebble's music control feature that lets you start, pause, and select the next or previous track in the Music app. There are no volume controls, but the pause and next track buttons work in other apps like Pandora and Slacker as well.
The Android version of Pebble is significantly more powerful. In addition to the standard reminders and music controls mentioned earlier, the Pebble Android app supports notifications for the Email, Gmail, Calendar, Google Voice, WhatsApp and Facebook apps. Even more control is provided by using a third-party app that allows notifications from any app to be forwarded to Pebble. This is only available on an iPhone if you are on a jailbroken device.
One uncomfortable aspect is that Pebble needs Gmail credentials in order to access Gmail notifications, which many may hesitate, and for good reason given account security concerns. Another drawback is that the app handles notifications based on the last status of the last delivery. There is no way to scroll through warnings. As a result, only the most recent message or tweet will be shown and an important notification may be missed.
Apps should also be part of the Pebble package, but unfortunately the watch doesn't have these features yet. The original plan for Pebble included additional functionality for apps. The most notable are running stats which RunKeeper shows on the screen. Although an SDK has been available since last spring and the feature was demonstrated early, RunKeeper and other third-party apps are unfortunately missing in Pebble. The only things that can be downloaded so far are additional clocks that are nice but not enough to make you forget what Pebble can do.
battery
As I suggested earlier, the Pebble isn't the first device to try to extend connectivity performance from the pocket to the wrist. The difference is that other solutions have used low-power LCD screens that require frequent charging, which is not a starter for most people. Pebble completely avoids this problem as the e-paper display is durable and Bluetooth 4.0 consumes less energy in connection with a powerful smartphone. Pebble has an announced battery life of seven days. However, this can be lessened if Bluetooth is always on and someone is constantly accessing the backlight.
I managed to use the Pebble frequently for more than four days, with both bluetooth and backlighting always on, before the battery gauge indicated that it might be time to charge the device. The pebble lasted at least six hours even though the display was on. The only problem concerns the smartphone, which, depending on the device and usage habits, runs noticeably faster. Pebble continues to act as a clock when disconnected, but notifications will obviously stop once Bluetooth is turned off.
Close thoughts
Pebble is a brave project that clearly got out of the gate faster than expected. The small startup that created the watch had to learn and adapt in an instant due to unexpected demands, which resulted in the device failing to reach its potential.
The good news is that there is still plenty of upside potential and room to grow. Apps will ultimately help deliver on Pebble's promise, and the device is already a good product. For the past week, I've enjoyed being able to skip songs without reaching for my phone and reducing the number of missed calls when I've been in a different room. I even found a new way to find my frequently misplaced phone by remotely starting a song and following the sound.
That won't be enough to spend $ 150 for most people, so Pebble is a fancy toy right now with a chance to be more. Pebble isn't the sleek solution that inspired the Kickstarter project yet, but it's a functional watch that is well on its way to becoming special.