Google has released a number of "hero" smartphones from the Nexus brand in the past, but the new Google Nexus 7 is the first tablet to bear the Google Nexus name. The Nexus 7 developed by Asus is also the first device to run the Android 4.1 "Jelly Bean" operating system.
While the Nexus 7 doesn't offer consumers anything that can't be found elsewhere – aside from Jelly Bean – it does offer a number of improvements to the Android tablet experience in terms of both software and hardware. And all at a price below $ 200, which is set to dethrone Amazon's Kindle Fire as the reigning Android tablet of choice for consumers.
With specs like a quad-core processor and a 1280 x 800 pixel display, this seems possible and likely.
hardware
From a hardware point of view, Asus' Google Nexus 7 does not differ much from existing Android tablets such as the Samsung Galaxy Tab 2 7.0. It measures 198.5 mm x 120 mm x 10.45 mm (7.8 in. X 4.7 in. X 0.4 in.), Weighs 340 g, and has a 7-inch IPS display that is covered by scratch-resistant glass is protected.
Unlike most other 7-inch tablets, Google's budget flagship tablet offers users a fairly dense grid of 1280 x 800 pixels. It's not as sharp as an Apple Retina display, but very sharp indeed and easy to see both indoors and outdoors.
The device I checked is the limited version of Google I / O 2012 with a white back that is studded like a golf ball. The normal retail version has a back plate that matches the dark color of the front. it also receives a metal band around its edge. Both versions use the same quad-core NVIDIA Tegra 3 processor and 1 GB of RAM. However, the I / O version is limited to 8 GB of internal storage, while the retail version is available in 8 or 16 GB configurations for $ 199 and $ 249, respectively. There's no ~ microSD expansion slot, so Google expects Nexus 7 users to make good use of its cloud-based Google Play services.
<iframe width = "600" height = "338" src = "https://www.youtube.com/embed/-sVV1geONjU?autoplay=1" frameborder = "0" allowfullscreen = "" load = "lazy" srcdoc = ""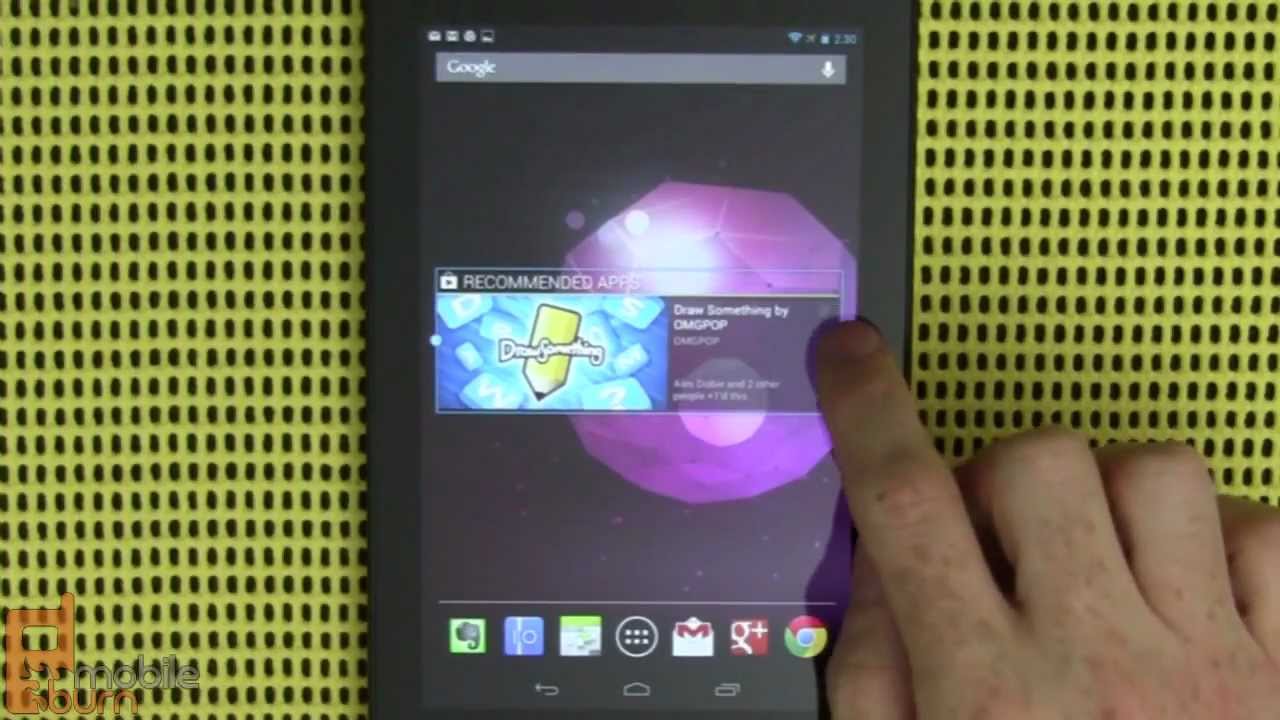 ▶">
Google and Asus have decided to forego a rear-facing camera on the Nexus 7 and instead opt for a solitary, front-facing 1.2 megapixel camera for use in video chats. A micro-USB port at the bottom of the tablet is used for charging and access to the PC cable and is located next to a 3.5 mm headphone jack.
The only other hardware features on the Nexus 7 are the power button and volume rocker, both of which are located on the top right edge of the tablet.
<iframe width = "600" height = "338" src = "https://www.youtube.com/embed/-KoMQvOrBUQ?autoplay=1" frameborder = "0" allowfullscreen = "" load = "lazy" srcdoc = ""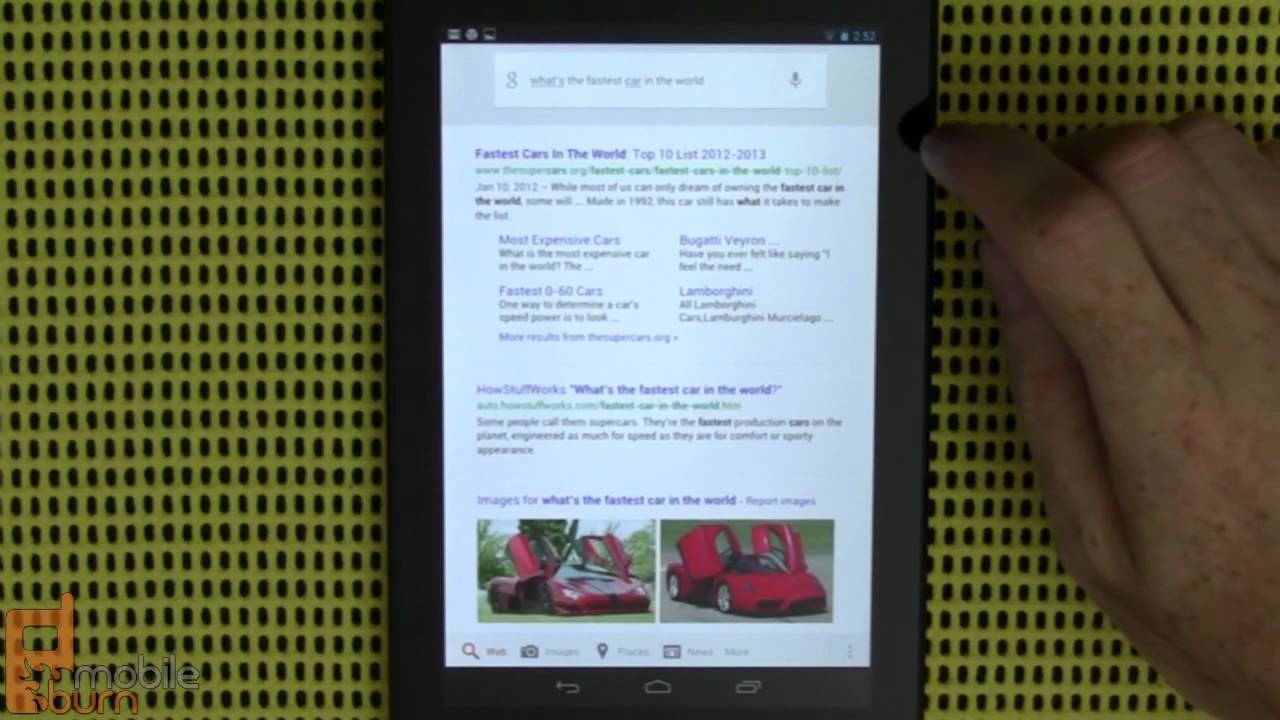 ▶">
The most important controls for Android Back, Home and Task Switcher are fully displayed on the screen, as they have been used by default since Android 3.0 Honeycomb. It makes for a very clean design and the texture of the back makes it a comfortable design. When you add in a solid build, you have a real winner – aside from the lack of microSD expansion.
user friendliness
From a usability perspective, the most interesting aspect of the Google Nexus 7 and its Android 4.1 Jelly Bean operating system is that everything on this tablet works a lot more like an Android smartphone than other Android tablets. The notification area has been moved to the top of the screen. The main button of the app bar is located at the bottom of the screen and is surrounded by shortcuts available on every home screen. At least with the 7-inch Nexus 7, the device only works in portrait mode on the home screen, while most earlier Android tablets are likely to be used mainly in landscape mode.
All of these changes make the device much more user-friendly in my opinion. The exception, of course, is the fact that the home screen is locked in portrait mode. This makes it difficult to use an app in landscape mode as you have to physically rotate the device when jumping back home. I don't see any obvious reasons for this design decision.
Otherwise, the Nexus 7's Jelly Bean operating system, by and large, feels like an oversized smartphone – think Samsung Galaxy Note about growth hormones. I've never been a fan of the Honeycomb user experience, and I think this more unified experience between tablets and smartphones is a good thing. I'm just not sure if I'll be thinking this anymore when I finally get to use a 10-inch Jelly Bean tablet …
You can find more changes in the notification area on phones and tablets. For example, there are no more honeycomb-style configuration buttons for display brightness and WiFi. All that's left is the link to the general Settings app and a screen rotation lock.
What we're gaining, however, are new notification features. New-style notifications can be expanded with two fingers to reveal more information, and some notifications can even include on-screen buttons for direct action. The Call and Message buttons for missed calls are a perfect example.
Google Now is Google's answer to Apple's Siri. It can respond to voice queries and, depending on the query, will respond with a "map" of data and possibly very well-designed artificial language or standard Google search results. The system will also try to figure you out and offer cards based on your needs. For example, it will show you the time at home that it thinks you are on the go, and it will warn you of traffic problems if you think it will commute in the morning and evening, and even warn you if you have extra travel time required to make appointments.
It's all kind of cool, but at least it doesn't seem to work that well for me.
The widget system of the start screen has been revised. Widgets that are not needed can now be removed from the display so that they no longer have to be dragged onto the trash can icon. When moving widgets from home screen to panel, existing widgets try to reorganize themselves to make room, and the widget that is dropped on a new panel reduces its own size whenever possible to accommodate itself. It's a smooth process.
In fact, smooth is a good way to describe the Nexus 7 in general. Google claims to have spent a lot of time increasing the frame rate of animations and user interactions on Android 4.1. Everything moves more smoothly and the Tegra 3 processor in the Nexus 7 proves to be cool and fast.